THROUGH THESE DOORS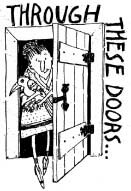 The spring season lived up to our expectations, and we have received many animals in the last few months. In May we received an average of 13 new patients per day.
We treated and released many doves, finches, sparrows and squirrels. We also saw scads of ducklings. The following came through our busy clinic doors as well:
Palo Alto Animal Services delivered two gopher snakes in April. One had entangled itself in plastic netting, resulting in several small wounds and a broken jaw. This snake was released in May. The second snake had crawled partway through a plastic pool drain and was brought in wearing the drain cover like a very tight necklace. We'll release this 6-foot snake as soon as it sheds.
Several young great horned owls are currently in the care of our Raptor Team.
An alligator lizard was brought in cold and motionless, but it was released after a short period of observation.
Our volunteers are helping to raise three nuttall's woodpeckers in the shelter. These cavity dwellers were brought in when their tree was removed. They are eating mealworms, hummingbird nectar and a special insectivore diet while remaining in artificial housing that mimics a natural cavity. It is a joy to hear them call out during the day, though, as always, we look forward to the day they will be released back to the wild.


Copyright © 2000 Wildlife Rescue, Inc. -- Illustrations © Deborah Melmon
Send Email comments or inquiries to: