THROUGH THESE DOORS
Our busy season never fails to live up to its reputation--the wild pace kept us on our toes. Following are some of the critters we welcomed from June to mid-September:
450 Songbirds, 200 baby Squirrels, 175 Mourning Doves
Lots of raptors (Kestrels, Cooper's Hawks, a Black-shouldered Kite, Barn Owls, Western Screech Owls and a Great Horned Owl)
A young Barn Owl who was separated from his mom and suffering from a serious infection--he was nursed back to his old feisty self and will be released in the spring.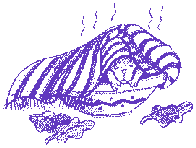 A baby Squirrel with a wire wrapped tightly around a toe on his left front paw--we lost the claw, but saved the toe and the Squirrel.
Three baby Raccoons who were left by their mother in a busy and dangerous area
Three nestling Bewick's Wrens who were orphaned when their mother hit a window--they were released one month later.


Copyright © 1999 Wildlife Rescue, Inc. -- Illustrations © Deborah Melmon
Send Email comments or inquiries to: