THROUGH THESE DOORS
The excitement continued at the shelter during the last quarter of 1998. Just some of the creatures that paid us a visit:
433 ducks suffering from avian botulism. Some of the more unusual species also affected by the outbreak were a Northern Pintail, two American Widgeons, a Blue-winged Teal and several American Avocets
An Ancient Murrelet, a seabird rarely seen on land, was found in a local back yard, anemic and suffering from an infection. He was treated and released several months later.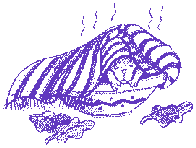 An Acorn Woodpecker that endured all sorts of adversity, from a broken wing to an eye problem, was treated and successfully released back to its family on the Stanford University campus.
78 Doves and Pigeons, 7 birds of prey, 76 Eastern Gray Squirrels and 103 songbirds


Copyright © 1999 Wildlife Rescue, Inc. -- Illustrations © Deborah Melmon
Send Email comments or inquiries to: