THROUGH THESE DOORS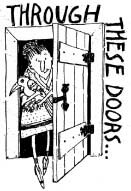 Several killdeer from Stanford: We received a baby killdeer that was found in a trash can inside Stanford, as well as two baby killdeer that were "over-rescued" from the campus. Concerned citizens noticed these babies on the ground, not realizing that killdeer nest on the ground, often in open areas or on busy paths.
A young chipmunk was found alone, cold and unmoving on a sidewalk. He recovered beautifully and was released a little more than one month later at the Portola Valley home of WRI founder Jeanie Collins, who has a special love of chipmunks.
We received a marbled murrelet that had lost his way back out to sea and was grounded at the Palo Alto VA Hospital. We were thrilled that this endangered California seabird was released 10 days later.
Of course, August and September are peak time for baby squirrels, and this year they were especially busy. We received 219 squirrels, of which 197 were babies. Please save your tree trimming until after this crucial baby season has passed.
Other mammal statistics: 7 deer, 15 raccoons, and 20 opossums.
Bird count: 4 Canada geese, 24 Anna's hummingbirds, 38 American robins, 42 jays, 90 house sparrows, 106 house finches, and 163 mourning doves.
Raptors: one turkey vulture, two Western screech owls, two great horned owls, three red-shouldered hawks, five red-tailed hawks, six American kestrels, seven Cooper's hawks and eight barn owls.


Copyright © 1999 Wildlife Rescue, Inc. -- Illustrations © Deborah Melmon
Send Email comments or inquiries to: