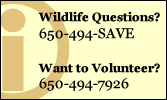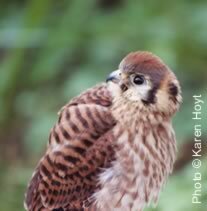 WRI Merges With The Peninsula Humane Society & SPCA
Because of WRI's recent staffing and funding challenges, exciting possibilities, and for the best interests of the animals, the WRI Board approached the Peninsula Humane Society & SPCA and proposed that WRI become part of the Peninsula Humane Society & SPCA. An overwhelming majority of WRI's voting membership approved the merger, which became final December, 2007.
The vote was followed by a letter from one of WRI's founders (speaking for all four living founders), who said, "In our collective opinion, we saw the merger as a wonderful opportunity for WRI to grow organizationally within the PHS/SPCA family…"
PHS/SPCA's Wildlife Manager Sue Kelly, who received the National Wildlife Rehabilitator Association's Lifetime Achievement Award in 2007, is now working out of the Cubberly facility to oversee animal care and assess needs. The care for incoming animals will not be compromised in any way; with Sue on site, the animals are in excellent hands. The Cubberly location will continue accepting animals as it has for years.
PHS/SPCA has invited all WRI volunteers to continue offering their services and scheduled orientations for Dec. 11 and Dec. 15 at PHS/SPCA's San Mateo facility; volunteers must attend one. Going forward, PHS/SPCA will recruit volunteers from Palo Alto, Los Altos, Los Altos Hills, Mountain View and Stanford. If you are a new prospective volunteer, or if you would like to help sick and injured animals by making a financial contribution, please see http://www.peninsulahumanesociety.org/involved/.
About the Peninsula Humane Society & SPCA…
Though best known for placing thousands of domestic animals into new homes each year, PHS/SPCA, a private not-for-profit, is also home to one of the country's finest wildlife rehabilitation centers. Other major programs and services include community education, a low-cost spay/neuter clinic, mobile spay/neuter clinic, dog training classes, a behavior helpline, animal rescue, cruelty investigation, pet loss support and sheltering for domestic abuse victims' pets. More than 900 volunteers support 90 paid staff in nearly every shelter department. To learn more, please visit www.PHS-SPCA.org

Shop and support Wildlife Rescue at the same time! Go to Amazon from our site and we can earn 5% of the total purchase price of your order.