---


Volunteer Corner!


News


Donors


Through These Doors


Previous Issue

Next Issue
---
Board of Directors:


President
Valerie Baldwin
Vice-President
Sandra Skolnik
Treasurer
Leslie Leger
Secretary
Liana Boyarsky
Directors
Pam Haunschild
Michele Fournier

Staff:


Clinical Advisor
Susie Brain
Animal Care Coordinators
Becky Duerr
Shawn Wilson
Coordinator of Volunteer Programs
Genna Barfoot
Acting Office Manager
Mark Walden

---
The Rescuer is published 3 times per year. We welcome articles, story ideas and suggestions.
Editor:
Michele Mandell


Contributors:
Valerie Baldwin, Genna Barfoot, Susie Brain, Karen Hoyt, Leslie Leger, Martha Kudlacik, Brad Milliken, Sandra Skolnik, Mark Walden, Shawn Wilson
---
The Rescuer
Volume XXVI -- Issue One -- March 2000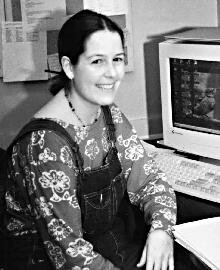 WRI Welcomes New Coordinator of Volunteer Programs
by Sandra Skolnik
We are pleased to welcome Genna Barfoot as the newest addition to WRI's team. Genna recently moved to the area from Michigan and started with WRI last November. She has a degree in public policy and environmental studies from Western Michigan University in Kalamazoo. In her most recent job she coordinated children's literacy programs through the AmeriCorps Program.
"I am enjoying working with all of the great volunteers at WRI. I am also working very hard to add more volunteers to our current volunteer base. It is a great place to work."
Changing times have made it necessary for WRI to expand its volunteer coordinator position to full-time. This will enable us to recruit and retain volunteers needed to assure that our wild patients get the best care possible. We know that we are in good hands with Genna. (Please see the Volunteer Corner in this issue for important volunteer information.)
---
SUCCESS STORY
---
Mystery Bird from Milpitas
Turns into Something Special

By Karen Hoyt


Editor's note: This article is a follow-up to the cover story on the orphaned hawk that appeared in the Nov. '99 issue of The Rescuer.

Release criteria can be the most difficult part of wildlife rehabilitation. We've become proficient at treating emergency needs, stabilizing, hydrating, splinting and pinning. Housing and nutritional needs come second-nature to us. But returning our rejuvenated creatures to the wild is another story. Our state permits give us guidance in releasing animals back to where they came from, but what about migratory species that leave local breeding areas to winter in different habitats?

When the young "mystery hawk" (subsequently identified as a Swainson's hawk) was transferred to WRI last fall, the first problem had been identification. Once that was solved, we worked on weight management and introduced appropriate prey species to teach the young bird how to survive. We had completed all the rehabilitation tasks. However, 99 percent of the Swainson's hawk's relatives had already migrated to Argentina in late September! Where could we release this bird in November?

After researching the winter distribution of Swainson's hawks, I presented our dilemma to WRI's regional Department of Fish and Game director, Captain Tom Belt. His first response was "No Karen, the Department will not fly you to Argentina to release this bird." I suggested other options. One was to "over winter" the bird until spring, when its relatives would return from their South American wintering grounds. This would not be ideal, as it would keep a healthy wild animal in close contact with humans and take up valuable aviary space. The other choice was to release the bird into a very small wintering population of Swainson's hawks in the Sacramento Delta region that was discovered in 1991. This would give the young bird an opportunity to interact with others of its species and to be introduced into a habitat that could support it through the winter. We agreed that this was the best decision.

Negotiating the release into a different Fish and Game region was tricky, but permission was received. I left at 4 a.m. to reach the known roost site before dawn, so the bird would have a chance to connect with others of this very social species. I had planned the release to avoid storm fronts, but I didn't anticipate the fog.

While I waited, hoping the fog would lift, I saw what looked like another Swainson's hawk. I knew now was the time. The young bird flew well and disappeared into a beautiful setting of wild water and tracts of agricultural land - a Swainson's hawk paradise. Birders and biologists have been notified to keep an eye out for this individual, and someday we may have additional news of this mystery bird.