Wildlife Rescue hired Shawn Wilson in August to replace Kathy Tyson as animal care coordinator. Judging by what we've seen and by the rousing cheers he got from volunteers at the 25th anniversary party, he's doing a great job.
Shawn recently received a bachelor's degree in wildlife biology from Humboldt State University. He has extensive wildlife rehabilitation experience, having worked at the Lindsay Wildlife Museum for almost five years and at the Marine Mammal Center for one year. A former biology teacher, he also brings to the job a love of teaching and great patience, two key assets.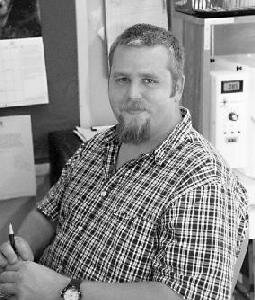 Bringing a wealth of rehabilitation experience, Shawn Wilson joined WRI in August as animal care coordinator.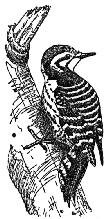 By Terri Lambert
After recuperating from wounds caused by a cat, a Nuttall's woodpecker was ready for release. He was away from his home turf for several weeks during his recovery. The last days of his rehabilitation were spent in the relative luxury of an aviary, where he was treated to a smorgasbord of mealworms, peanut butter crumble, sunflower seeds and grape kabobs.
The weather was ideal on the selected release day. When we took him back to the yard where he was found, where there was only a lonely tall tree. Just two doors away was a beautiful, lush grove of trees-a perfect release site-unless you happen to be a Nuttall's woodpecker with a mind of your own. Upon getting his freedom, he practically did a back flip to avoid the luxurious stand of trees and made a beeline for his own yard and that spindly, solitary tree. As they say, beauty is in the eye of the beholder.
---
By Grant Hoyt
An orphaned hawk nestling drew the attention of a concerned golfer, then an ex-falconer, the State, two wildlife rehabilitators, an ace birdwatcher in one of the summer's most unusual wildlife rescues. As it turns out, the young raptor may attract even more notoriety as its identity becomes known to local bird enthusiasts.
The story of the young Swainson's hawk, probably the first of its species to have been born in Santa Clara County since records have been kept (over 100 years!), began in Milpitas in June at the Summit Golf Course near Ed Levin Park. A golfer found the helpless, downy nestling near one of the fairways and brought it to the pro shop.
Cindy Simons, of Santa Clara, a former falconer with her husband Brent, happened to be in the shop and offered to care for the bird. Doing the responsible thing, the Simons couple called the California Department of Fish and Game, who were very helpful in referring them to their local wildlife rehabilitation group, the Wildlife Center of Silicon Valley (WCSV). For the next several weeks Cara Huffman, WCSV's raptor specialist, took over the care and raising of the hawklet at her home.
As the bird grew out of its downy feathers and into juvenile plumage, Cara began having trouble determining its species. It was most certainly a buteo, the genus of hawks that includes our common red-tailed and red-shouldered hawks; however, its markings weren't consistent with either of those species. Cara called Karen Hoyt of WRI's raptor team to request flight space for the rapidly growing mystery raptor, who by mid-September needed to test out its new wings in a bigger aviary.
Karen examined the bird's coloring, markings and weight and was likewise confused as to its identification. It was too small for a red-tail but too large for a red-shouldered. What else could it be?
After scouring field guides and reference books and mulling over the possibilities, we called Mike Rogers, one of California's top birders. Mike, his friend Alma Kali, Karen and I inspected the plumage of this mysterious creature, and after considerable discussion, arrived at a conclusion‹this was a young Swainson's hawk, a Central Valley breeder unknown to nest in Santa Clara County, and likely the first documented breeding here. Mike, who keeps meticulous records of local breeding bird activity and has pored over historical data compiled by birdwatchers and ornithologists since before the turn of the century, was excited to add a new species to the county list.
We commend the efforts of everyone who helped this bird survive the apparently unsuccessful efforts of Ma and Pa Swainson to raise their youngster. For this young Swainson's hawk, the system has worked, so far. With further rehabilitation and a bit of luck, the bird might have a shot at survival in the wild. And, with any luck, the bird who stumped local experts for a few months this summer will be among the hawks soaring over South Bay skies next spring.